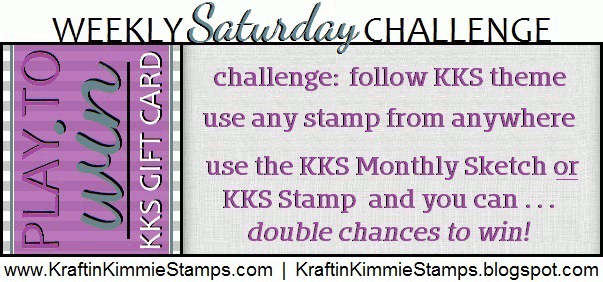 Hey Krafty Peeps! It's time for another challenge over at
Kraftin Kimmie!
!! This weeks challenge is NATURE!!!! SO.... I thought HEY! I am trying to get a BUNCH of stuff created in a SHORT amount of time, so I decided to grab the
Holiday Trinket
set and get busy....
The image I used has snowflakes in it! A-HA! NATURE!!!! So I took it just a step further and used the AWESOME Glamour Dust glitter that Kimmie carries and created a blanket of SNOW across my SNOWFLAKE trinket! lol 100% NATURE!!!!
This card was SUPER fast and easy! Another great idea for mass production! Simply ink up the trinket, I actually used Versamark ink then directly into my Stampin Up ink and stamped it on some Whisper White CS. I allowed for the ink to dry and smashed my Versamark ink pad all over the top of the CS. Check frequently for ink transfer.... if this happens just *smash* the ink pad onto scrap paper.... I then took some Heat n Stick powder sprinkled it all over the Versamark ink, tapped off the excess, heat it with my heat gun until melted. This creates a sticky background. I sprinkled the
Glamour Dust
on top of the sticky CS, tapped off the excess and then hit it again with my heat gun. This second heat application warms up the sticky again and seals in the glitter. You can rub your hand over the top and nothing comes off! I have a TON of Heat n Stick! It's the bomb glittery!
A bit of gold cording and I have a BEAUTIFUL NATURE card!!! :)
OK hop on over to Kraftin Kimmie stamps and check out
all the trinkets
there that make SUPER awesome CAS cards for all seasons and reasons!!! This one is
Holiday Trinkets
remember! ;)
KJ